Vinnies and our CEDoW Schools: A Match Made For Heaven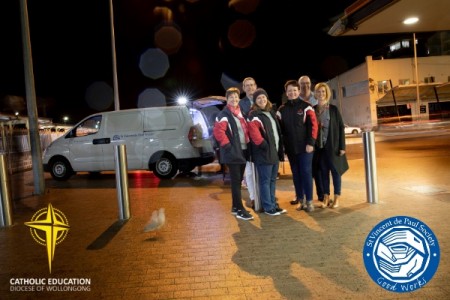 It was a young 20-year-old, Blessed Frederic Ozanam, who started the St Vincent de Paul Society when he decided to do something about the poverty he saw in his community. Today, it is the young people in our Catholic primary and secondary schools who are a driving force behind the success of Vinnies' good works in the Diocese of Wollongong.
Our Catholic schools and Vinnies have a century-long history of working together to help those in need. It's an enduring and rewarding collaboration based on a shared set of values: compassion, social justice, spreading hope, and a wonderful willingness to offer a 'hand up'.
Executive Officer of the St Vincent de Paul Society Wollongong Central Council, Peter Quarmby, said Vinnies is privileged to have the ongoing support of Catholic Education Diocese of Wollongong (CEDoW).
"Working together has enabled the development of a mutually beneficial partnership that sees students and their families, and staff alike, put their faith into action in a variety of ways – from generous fundraising efforts and participation in social justice causes, to Mini Vinnies initiatives and extensive ongoing support of the Vinnies Van" — Peter Quarmby, Executive Officer, St Vincent de Paul Society Wollongong Central Council
For Vinnies, the investment makes a lot of sense. Short-term, it means harnessing the passion and energy of many more enthusiastic hands, hearts and minds through awareness, volunteering and donations. Long-term, they build a generation of new volunteers coming through to carry on their work and continue the Vinnies legacy.
But as St Francis of Assisi said, 'it is in giving that we receive' – and for those in our Catholic schools, there is much to be gained too. The organisation offers a unique opportunity for our young people to be engaged, learn, reflect and support the work of Vinnies, and put their faith into action, giving tangible meaning to living the Gospel.
It is the privilege and gift of giving – students learn more about the disadvantages facing people in their community and what they can do to help others. They are empowered to take action on social justice issues and supported to run effective initiatives to raise awareness and funds with their peers so together, they can make a tangible difference. In the process, the students build their skills as advocates, leaders and good stewards, geared towards creating a more just and compassionate society.
"Social justice is fundamental to Catholic teaching, and promoting awareness of social justice issues is a core work of Vinnies. By nurturing the compassion of our young people through participation in Vincentian programs that help alleviate need, we're also encouraging the leaders of our future to help identify and address the unjust structures that cause this need," Mr Quarmby said.
The community at St Brigid's Catholic Parish Primary School, Gwynneville [pictured throughout] typifies this partnership in action and its benefits – not just for students, but also staff, parents, and other family and community members. Together, they have supported each other, strengthening a shared understanding of hope, connection and dedication to helping those experiencing disadvantage.
Parent at the school, Ainsley Eckermann, said, "It's been a wonderful experience for the children. They've learned that not all people have a home, a comfortable bed and food in their cupboards. It's also taught them that even though they are small children, they too can make a positive change in the world."
Last year, the school's students, parents, extended families and even neighbours, all came together in outstanding generosity for a whole-school walkathon. The event raised a massive $7,630 for the Vinnies Winter Appeal—an incredible effort considering, as a small school of under 200 students, this averages out to a contribution of over $40 per student!
"We're lucky to have all the things we do, but there are people out there who aren't as well off as us. So it's important to take time to support people in our community by raising this money and donating food, warm clothes and toiletries" — Henry, Year 6 student, St Brigid's Gwynneville
"In class, we've been learning about the importance of helping people in need. So, our class decided to hold a cupcake stall as part of our walkathon so we could raise even more money for Vinnies. It is a good feeling to help people who need food, clothes and blankets to keep warm," fellow student, Emily said at the time.
St Brigid's principal, Kathy Uroda, said the school is focused on creating a culture of 'being present' to others and showing a generosity of spirit—whether it be by small student leadership initiatives such as fruit kebab and cake stall fundraisers, and staff and parents regularly volunteering together for the Vinnies Van; or bigger events such as their walkathon, participation in the Vinnies Return and Earn Scheme, and their donation drives for Vinnies' Winter, Christmas and Drought Appeals.
"I believe it is extremely important that we provide opportunities for students and our school community to not only learn about their Catholic faith, but to demonstrate Jesus' mission to bring God's kingdom to earth. Our ongoing partnership with Vinnies is shaped by our desire to demonstrate Jesus' transforming love and to give of ourselves to other people," Ms Uroda said.
"Through the lens of Catholic Social Teaching and our school values of compassion, courage, service and stewardship, we are able to teach our students from an early age, the relevance and importance of their religion in promoting outreach and social welfare for those in need" — Kathy Uroda, Principal, St Brigid's Gwynneville
"The students at St Brigid's love helping others and have fun doing so. They enjoy creatively thinking and designing new ways of raising money, donating goods and giving of their time," she said.
Peter Quarmby said the breadth of support for Vinnies shown by schools like St Brigid's is exemplary.
"We are sincerely appreciative of the efforts of students, families and staff. The financial and social contribution made by St Brigid's and other CEDoW school communities across the diocese assists greatly in the provision of services that allow Vinnies to reach out to the most marginalised within our local communities. It is truly inspiring to see the passion of young people being fostered by their schools and directed to such worthy and meaningful causes" — Peter Quarmby, Executive Officer, St Vincent de Paul Society Wollongong Central Council
It is this kind of outreach that builds the social, emotional and spiritual depth of our students and instills in them a strong sense of service and community. When reflecting on what they'd enjoyed about their years of Catholic schooling, many of our recent Year 12 graduates nominated this aspect of their schooling experience as one of the most formative, enjoyable and empowering.
Winston Churchill said, "We make a living by what we get. We make a life by what we give." Our students come to know this inherently. They go forth into the world carrying what they've learned with them, giving of themselves and making a difference in the lives of others.


A SNAPSHOT OF THE CED

o

W-VINNIES PARTNERSHIP
● School fundraisers and donation drives raise thousands in funds and items to support the Vinnies Winter Appeal, Christmas Appeal and the recent Vinnies Drought Appeal.
● The original Vinnies Van was purchased by CEDoW in 2011, and CEDoW continues to fund the van to keep the service going. There are currently 120 registered Vinnies Van volunteers, including over 12 teams of parents and staff from Catholic schools across the diocese. With CEDoW's help, more than 16,500 meals were provided to people in need during the last financial year.
● Every year, a senior CEDoW staff member participates in the Wollongong CEO Sleepout event with schools and staff raising funds for the cause. Last year, CEDoW was the second highest fundraiser, donating more than $11,000.
● All our schools participate in the Vinnies NSW Return & Earn Container Deposit Scheme, collecting eligible containers and donating them to Vinnies for processing at its Bulk Container Deposit Centres. This helps raise funds for Vinnies services across the region and allows schools to respond to Pope Francis' call to "hear both the cry of the earth and the cry of the poor".
● Vinnies staff speak to students on issues of poverty, homelessness and social justice at school events. Representatives also attend school events to commission Mini Vinnies members, accept Christmas hampers, and thank students for funds and donations.


---