St Brigid's goes 'off the grid', now virtually electricity independent!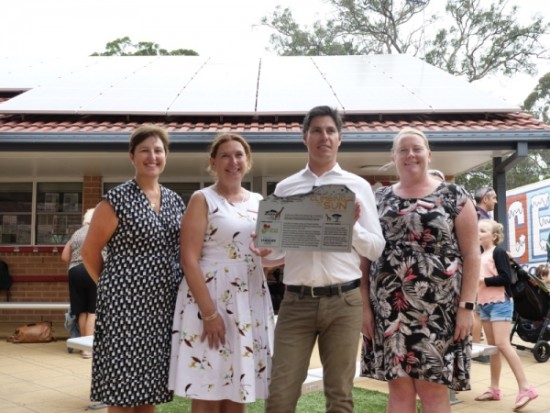 Our proud school community gathered together in solidarity today to celebrate the blessing of our recently installed 42kW Solar Photovoltaic system!
Thanks to the outstanding fundraising efforts of the school community, St Brigid's has now become the first virtually electricity independent school in the Illawarra.
Twelve months in the making, the 'Climbing for the Sun' project saw parent, Levi Gibson, climb and summit Mt Kilimanjaro in Tanzania as part of a fundraising drive that raised more than $30,000. Dapto Leagues Club provided $3,000 as the major sponsor, while local businesses, individuals and the St Brigid's school community all contributed towards a staggering total of $33,600.
While St Brigid's will experience practical benefits by cutting electricity and reinvesting the estimated $12,000 savings back into school resources, at the heart of the initiative is a commitment to educate our students about the importance the Catholic faith places on protecting the environment.
Principal, Kathy Uroda, said the instalment of the solar panels was both a sound economic decision and a practical expression of Pope Francis's call for all Catholics to 'care for our common home'.
"The project has ignited the local community around a positive environmental change, by taking responsibility for the care of our common home and each other. It has been a great platform for us to stop and think about how we live on our planet and what St Brigid's can do in response to the environmental challenges our world faces" — Kathy Uroda, Principal
"Students are gaining a deeper understanding of our school values of stewardship and the cross-curriculum priority of sustainability. We couldn't be happier," she said.
Following the 2015 release of Pope Francis' groundbreaking encyclical Laudato Si', Catholic Education Diocese of Wollongong (CEDoW) introduced a system-wide approach across schools to promote ecological and sustainable practices and help educate students on the importance of caring for the environment and protecting the planet for future generations.
CEDoW Environmental Advocacy Professional Officer and Wollongong Environment Network (WEN) Coordinator, Beth Riolo applauded the St Brigid's school community for their ecological initiative to help 'care for our common home'.
"Pope Francis tells us, 'Truly, much can be done!' and I think this is well and truly exemplified by what the community at St Brigid's has done with the installation of solar panels on their school buildings. Every positive action contributes, no matter how small or large, and the St Brigid's school community has come together in a significant way to 'care for our common home'. I congratulate everyone involved" —Beth Riolo, CEDoW WEN Coordinator
---