NAPLAN success: St Brigid's recognised nationally for its substantial learning gains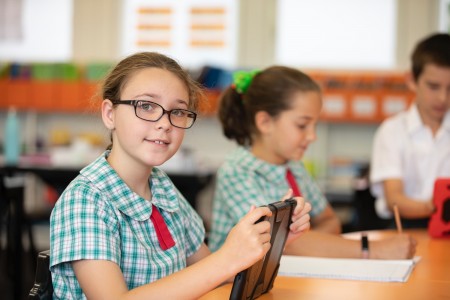 Congratulations St Brigid's! Our school has been recognised nationally for achieving 'substantially above average' learning gains in both numeracy and reading in our latest NAPLAN results.
Every year, over one million students across Australia in Years 3, 5, 7 and 9 sit the NAPLAN test. Students are assessed in the areas of reading, writing, language conventions (spelling, grammar and punctuation) and numeracy.
This week, the nation's NAPLAN test results were released, with St Brigid's recognised as one of the state's most improved performers, having shown 'substantially above average gain' in reading and numeracy.
At St Brigid's, contemporary resources, teacher professional learning and knowing every student personally are just some of the elements helping our students to excel – and our progress is earning us top outcomes.
Principal Kathy Uroda said that she and her teaching staff had ramped up their strategy to improve the pupils' reading and comprehension skills over the past 18 months.
"We purchased quality literacy books and digital texts, and teachers did a lot of professional development sessions," she said. "We also eliminated interruptions during literacy sessions.
"The Catholic Education Office provide an instructional literacy coach to work with our teachers to help them plan their methods and this ensured they were all teaching in the same way.
"There is also a picture of every child on a data wall in the office and we move their faces around to show how they are progressing. If a student is not progressing, then we have a discussion as to why. Reading and comprehension are a key focus in our school."
Ms Uroda said teachers would continue to implement the new practices after seeing the impressive results.

We made headlines! Read about our success in the Illawarra Mercury and watch our school on WIN News below or here.
Information for Parents
The MySchool website is a resource for parents, educators and the community to find important information about each of Australia's schools. My School is run by ACARA, an independent statutory authority responsible for collecting and reporting data on Australia's schools, along with running NAPLAN (and other assessments) and developing the Australian Curriculum.
The 2019 My School update contains:
2018 NAPLAN results for schools;

2018 school profile and population data; and

2017 school financial information.
The latest NAPLAN results are good news for our Diocese, however parents shouldn't feel under pressure to over-prepare their children for them. As the NAPLAN website states, "a child will spend less than four hours, four times in a seven year school life completing NAPLAN". According to the testing body, "that's a small investment given the important information that can be used to track a child's progress in the important areas of literacy and numeracy".

---